Dominic Alldis has built a unique career over 30 years, spanning the rich and varied worlds of classical music, jazz, cabaret, and speaking to the corporate world about music.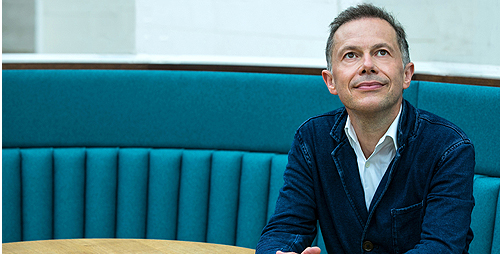 Dominic Alldis has built a unique career over 30 years, spanning the rich and varied worlds of classical music, jazz and cabaret, and speaking to the corporate world about music. Equally at home with a conductor's baton in hand, performing with his jazz trio or entertaining an audience with songs at the piano, Dominic's fluency in many different musical languages and flair for bringing them together in a distinctive way puts him in a category all of his own.
Steinway Artist and Honorary Associate of the Royal Academy of Music in London. 
Early Years
---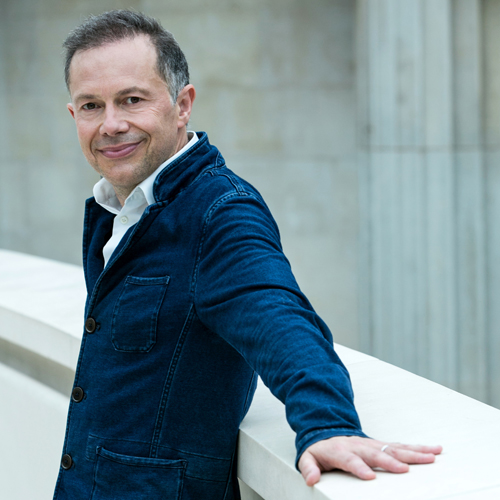 Growing up the son of renowned choral conductor, John Alldis, Dominic was exposed early to the full range of classical repertoire, from the great works of Bach and Mozart to contemporary pieces by Messiaen and Boulez. He studied classical cello, piano and organ, later adding conducting and composition studies to the list. However, although he may have seemed destined for a career solely in classical music, as a teenager he discovered a passion for jazz and improvisation that set his life on a new course.
Cabaret & Jazz Singing
---
Dominic's first professional engagements were in Paris, where he lived for five years, performing as a soloist and accompanying singers in French chanson. Having soaked up the sounds of the Paris music scene, Dominic returned to London to perform as resident-pianist at London's premier jazz-cabaret venue, Pizza on the Park. Here he stayed for two years, playing opposite many of the world's leading jazz and cabaret entertainers, keeping company with established pianists such as Teddy Wilson, Dave McKenna and Roger Kellaway, as well as cabaret performers Blossom Dearie, Dave Frishberg and Steve Ross. Inspired by their example, Dominic developed his skills as a singer-pianist, later taking his place as the main act at this venue and many others besides. Dominic has since recorded several albums in tribute to his passion for the Great American and European Songbooks; featured songwriters include the jazz pianist Bill Evans, the dramatist Noël Coward and film composer Michel Legrand. 
Instrumental Jazz
---
In parallel, Dominic's instrumental career has taken a varied course, with performances at venues ranging from the QEH, Purcell Room and Wigmore Hall in London to jazz clubs and festivals around the UK and abroad. After studying composition at the Royal Dutch Conservatory of Music in the Hague, he was invited by the Studio for Electro-Instrumental Music in Amsterdam to develop a performance using live electronics. He then toured Europe, giving concerts using the revolutionary Yamaha MIDI Grand Piano, culminating in an ambient piano album "Night Music" for Lumina Records. In 2002, he formed an octet made up of four jazz soloists and the Pavao String Quartet to perform his arrangements of French film music in an Arts Council Tour of the UK. More recently, he has joined forces with Ronnie Scott's bass player Andrew Cleyndert and ECM drummer Martin France to form the Dominic Alldis Trio, performing a distinctive and wide-ranging instrumental jazz repertoire.
Teaching
---
Education is another of Dominic's abiding passions. He has taught at several leading musical institutions, including the The Royal College of Music in London, Dartington International Summer School and The American School of Modern Music in Paris. Since 1993, Dominic has also taught improvisation to classical pianists and opera singers at London's Royal Academy of Music and in 2006 directed the first ever jazz-singing masterclass at the Academy. He has also written two highly successful books, A Classical Approach to Jazz Piano Harmony and A Classical Approach to Jazz Piano Improvisation, both published worldwide by the Hal Leonard Corporation.
Musical Leadership, Teamwork & Creativity
---
Dominic has also cultivated an international career as a business speaker. For over 20 years he has worke with the world's leading companies, business schools and speaker bureaus to create powerful learning experiences that use the metaphor of music to explore a range of key business concerns. In 2001, he founded Music and Management to provide a choice of "Musical Experiences", including with a live orchestra, jazz band and string quartet. They have been extremely popular with corporate team meetings, leadership training programs and business conferences. Music & Management has a global client base and can deliver events both virtually and in-person in UK, Europe, US and Asia.
Classical
---
In 2010, Dominic brought together his twin commitments to jazz and classical music by founding the Canzona Chamber Orchestra to perform classical repertoire and crossover projects with leading jazz musicians. The orchestra's inaugural concert took place at St James's Piccadilly in April 2010 and featured Tchaikovsky's Serenade for Strings, Britten's Simple Symphony and the premiere of Dominic's 'Childhood Suite', scored for jazz piano trio and orchestra. A recording of A Childhood Suite was released on the Canzona label in 2012.  Dominic Alldis is also a Steinway Artist.
Dominic is currently performing as a solo artist, with his trio, and continues to conduct orchestras worldwide. His latest CD is "Praeludium" by the Dominic Alldis Trio, featuring jazz improvisations on classical themes.